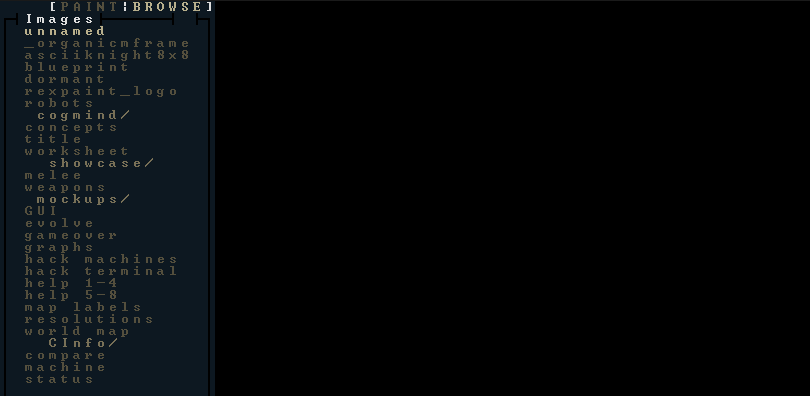 REXPaint
A downloadable powerful ASCII editor
REXPaint is a powerful and user-friendly ASCII art editor. Use a wide variety of tools to create ANSI block/line art, roguelike mockups and maps, UI layouts, and for other game development needs. Originally an in-house dev tool used by Grid Sage Games for traditional roguelike development, this software has been made available to other developers and artists free of charge. While core functionality and tons of features already exist, occasional updates are known to happen. Unlock your retro potential; join thousands of other REXPaint users today :D
Features:
Edit characters, foreground, and background colors separately
Draw shapes and text
Copy/cut/paste areas
Undo/redo changes
Preview effects simply by hovering the cursor over the canvas
Palette manipulation
Image-wide color tweaking and palette swaps
True-color RGB/HSV/hex color picker
Create multi-layered images
Zooming: Scale an image by changing font size on the fly
Custom fonts and support for extended characters and tilesets
Browse art assets and begin editing at the press of a button
Images highly compressed
Export PNGs for use in other programs or on the web
Export .ANS files for ANSI art
Other exportable formats: TXT, CSV, XML, XPM, BBCode, C:DDA
Import .TXT files
Skinnable interface
A complete manual is included with the download, but you can also check it out here if you like (pure text, so if you view it directly in a browser make sure word wrapping is on).
See many of REXPaint's features in action below: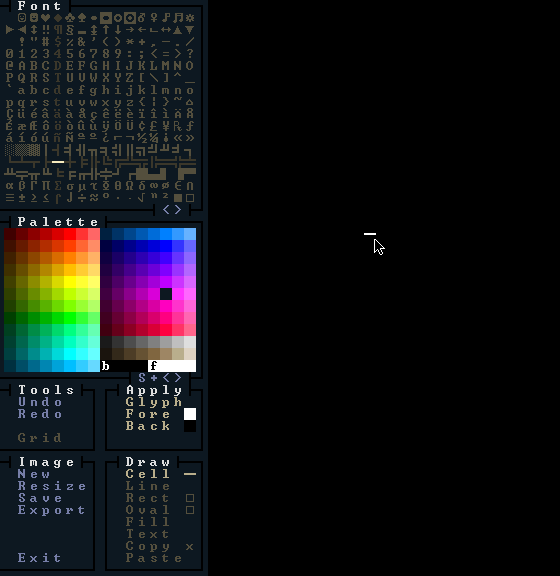 Using shape and text tools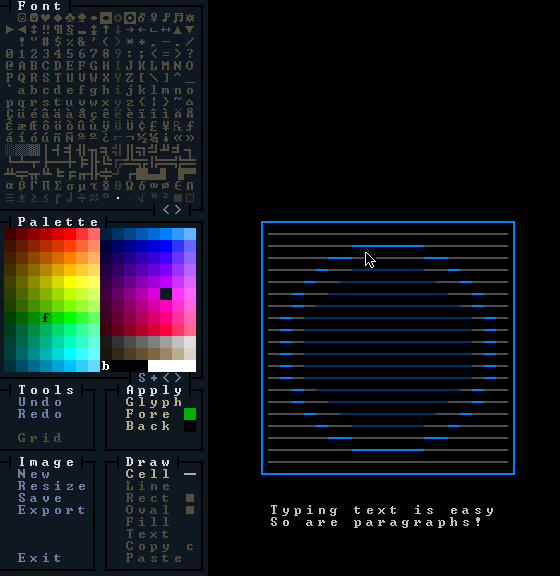 Copy-paste tools (includes flipping/rotation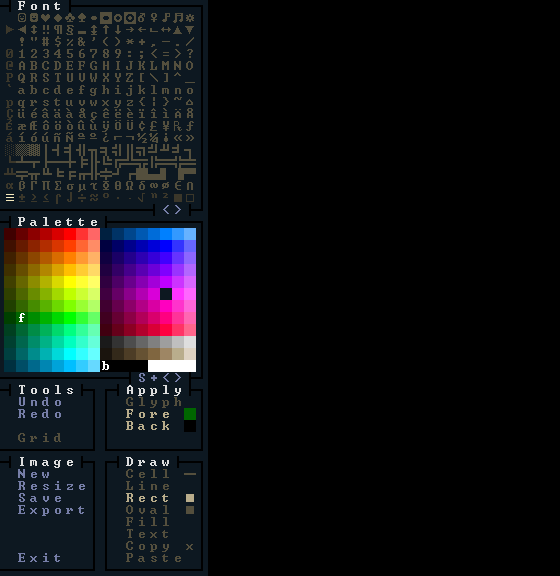 Unlimited undo/redo history that remembers every possible image edit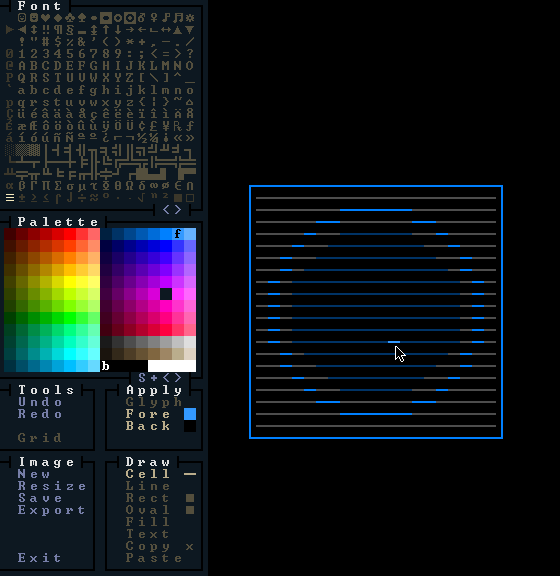 Automatically preview effects under cursor (demonstrated here with the fill tool)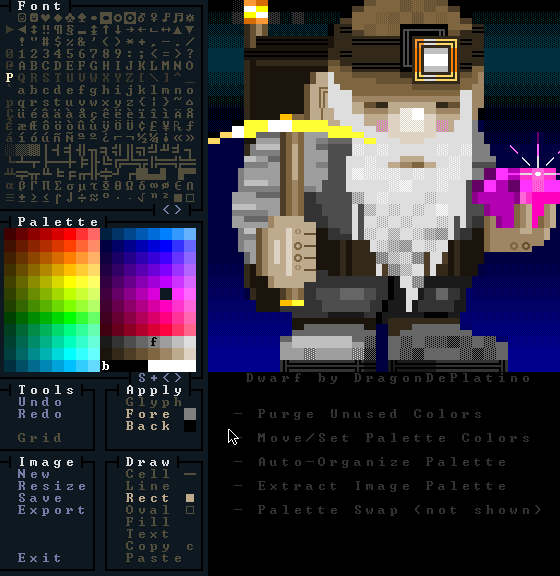 Convenient palette manipulation commands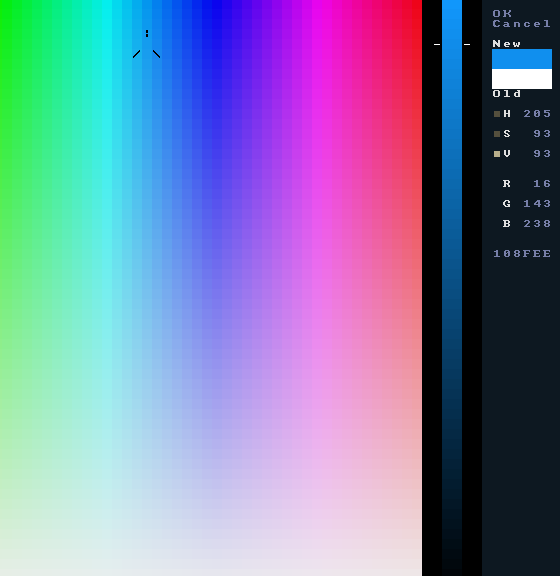 Color picker (brightness mode)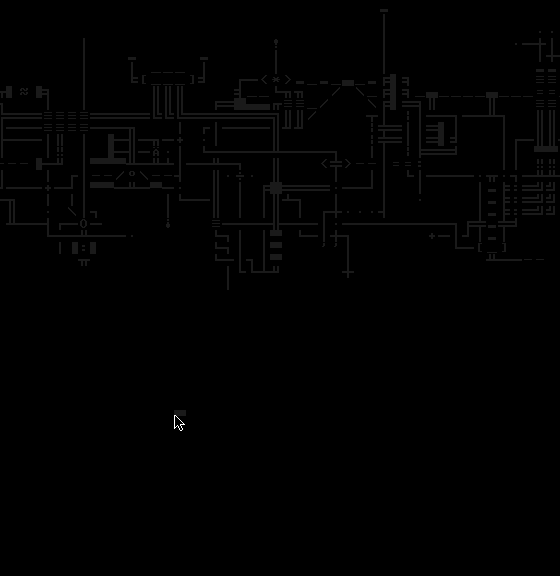 Edit multiple layers separately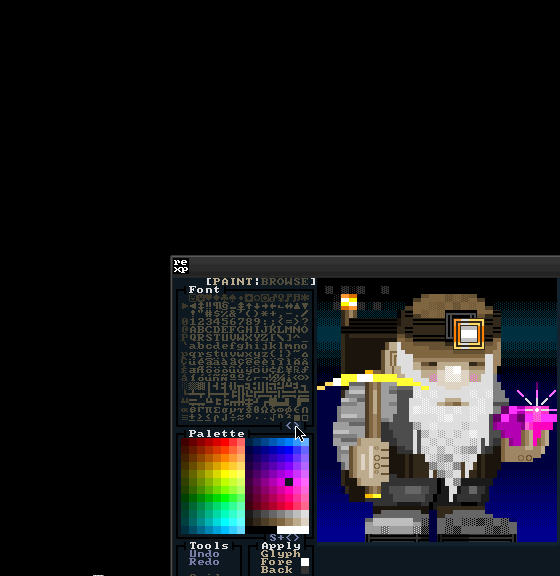 Font-swapping enables zooming/scaling (or loading of completely different font styles)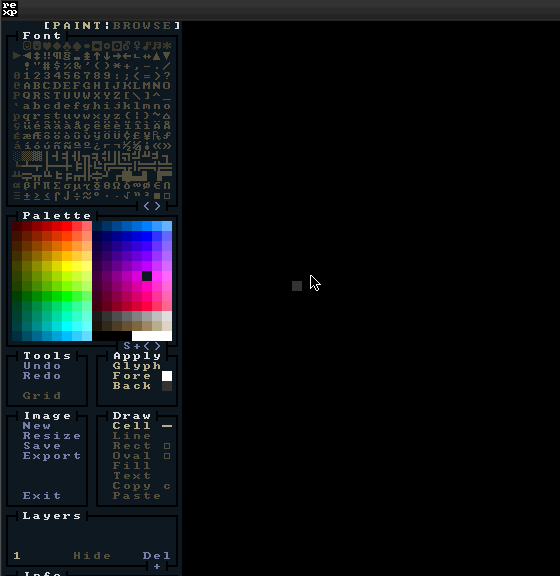 Built-in browser for quick editing, file manipulation, and copying between images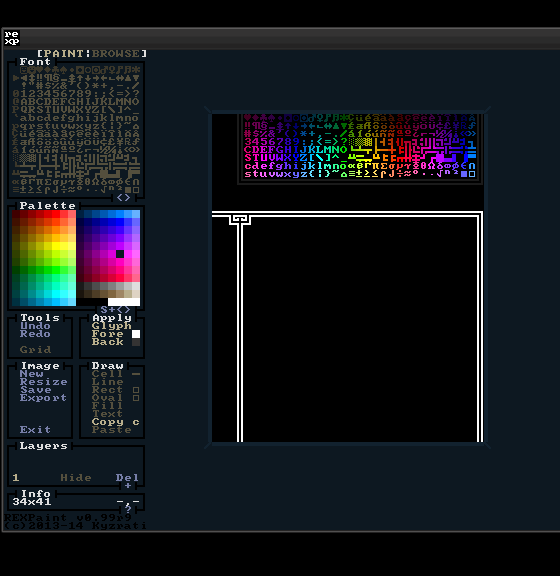 Use one of three included color themes for the interface, or easily make your own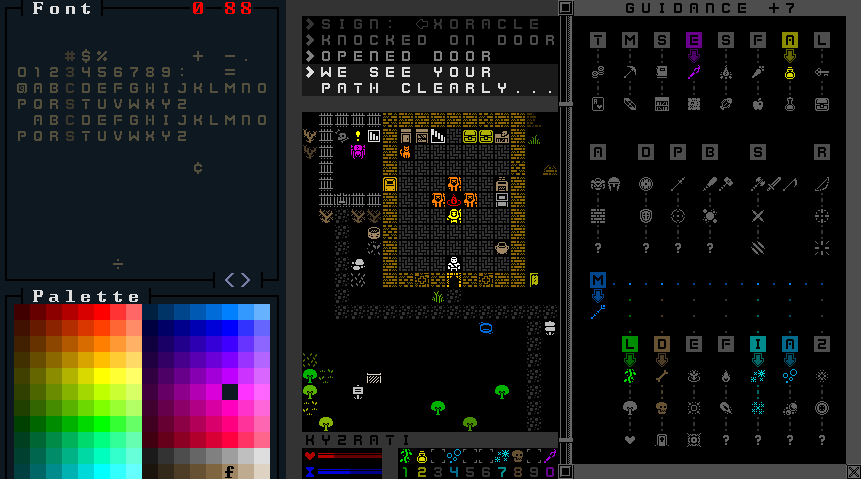 Add custom fonts and even tilesets, including the option to work with more than 256 glyphs/tiles
Resources
You can find a large collection of palettes, fonts, libraries, and guides on the website's Resources page.
The Gallery contains a collection of images created by various REXPaint users over the years.
Talk with the developer and other REXPaint users (and share your work!) on the forums.
Installation and troubleshooting info can be found in the included readme file. Although the download is only available for Windows, REXPaint works perfectly in Wine so using it on Mac/Linux is possible, too.
Download
Click download now to get access to the following files: